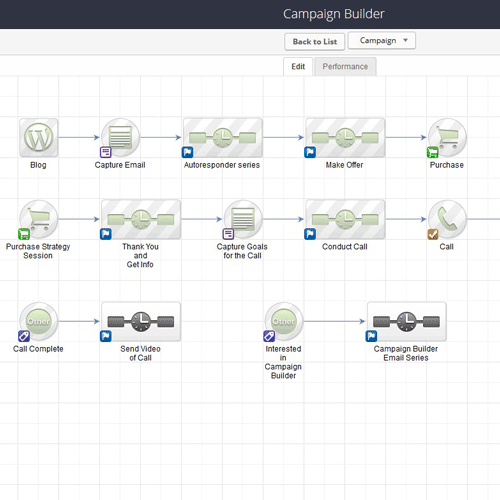 Video: How Do I Create a Campaign in Infusionsoft?
One of Infustionsoft's greatest features is its Campaign Builder. We use the Campaign Builder to easily create automated campaigns. Once you create a campaign, Infusionsoft takes care of sending the appropriate messages to recipients and / or tagging them, based on the instructions you added to the campaign – without you having to do a thing!
So How Do I Get Started Building a Campaign in Infusionsoft?
One of the most common questions we get from new Infusionsoft users is, "How do I start a campaign in Infusionsoft?"
Many wonder how a campaign gets kicked off — by a form, a tag or a purchase? While it can seem confusing, we break it down for you and show you how to kick off campaigns using all three: a prospect completing a form on a blog / website and providing an email address, a customer making a purchase and a prospect being assigned a tag
By the end of the video, you'll have the knowledge you need to get started building your own campaigns right away!
In this video below, we walk you through a step-by-step demo of how to start a new campaign. We'll teach you the difference between goals, sequences and tags. You'll learn how to:
Capture a prospect's email address on your blog / website.
Create a series of email messages, called an autoresponder, and schedule when to send them. This builds authority and establishes trust.
Segment your prospects, which helps you learn what topics they are interested in.
Create a new autoresponder series based on prospects' interest, which helps you send them content relevant to their interests.
Identify a goal, such as the prospect making a purchase and becoming a customer.
Create follow up messages applicable to the goal once the goal is met.
Create follow up tasks for internal staff members.
Use Infusionsoft to automatically assign tags to prospects and customers.
We introduce you to this powerful automation tool, Infusionsoft's Campaign Builder, so you can begin creating campaigns in just a few short minutes. Ready to get started? Click on the video below:

Summary
Article Name
How Do I Create a Campaign in Infusionsoft?
Description
Many new Infusionsoft users aren't sure how to create a campaign or how a campaign gets kicked off. We introduce you to the Campaign Builder and break it down for you in this step-by-step video.
Author